About me & the Birth of My Gifts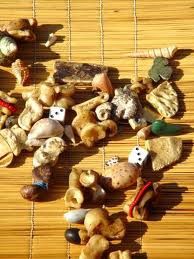 It was only at the tender age of 19 that I came to know that I was infact one with an innate ability to look into mine and others lives; simply put I was born with an iDlozi spirit attached to me. I was the chosen one. At first this didn't make sense to me and I had no intention whatsoever to entertain these news. So I merrily went on with my life, from relationship to relationship but something was missing. A friend I confided in took me to a Sangoma near home and he confirmed everything I had been told before. Only difference is he explained everything in detail, told why certain things had happened in my life when they did and answered all my questions, so I left isigodlo sakhe thinking "hmmm this may not be such a bad thing after all".
I followed his guidance and advise for another few years and by this time I was more aware of my gifts, the signs when iDlozi was approaching me etc. I started praying purposefully every day and did more research about abangasekho.
I eventually got married.... and things just turned upside down! It was as if someone had cast a spell on us. After seeking guidance from the same healer I came to know that iDlozi lam was unhappy because they had blessed me with all that I asked for through prayer but not even once did I acknowledge this and give thanks to them. they also wanted my husband to Khunga me and lobola them.
In 2010 I made the decision to undergo initiation. The reason for this was because abangasekho were visiting me almost every other night and this was freaking me out. I mean I would be lying in bed awake and see them around our bed; funny thing is when they appeared I could not move a muscle.... often I would try to stretch my arm to wake my hubby up but how could I when I couldn't move. They would say what they wanted to say and then leave.
This became more intense and I felt their presence even when at work. I would just start burping non-stop..... imagine the embarrassment! My body would ache and my shoulders felt as if the weight of the world was sitting on them, I could go on and on...... It is then that I went to a Gobela for initiation but a few weeks into initiation iDlozi came and told me to return home as my purpose had been served and I would receive further instructions from them. My Gobela did not take this too well and refused to let me go, so I stayed. Things got worse, iDlozi was furious with me for not listening. So I eventually mastered the courage and returned home. They have been teaching everything since then. I don't know if they will ever stop but what I do know is that I am at peace and enjoy their presence immensely. I know that I carry them on back and shoulders, I feel them crawling in my blood and because of this I have to respect my body and carry myself in a manner that pleases them at all times. In any-case this comes naturally when you live and walk with such great spirits.
To be informed of the latest articles, subscribe: